News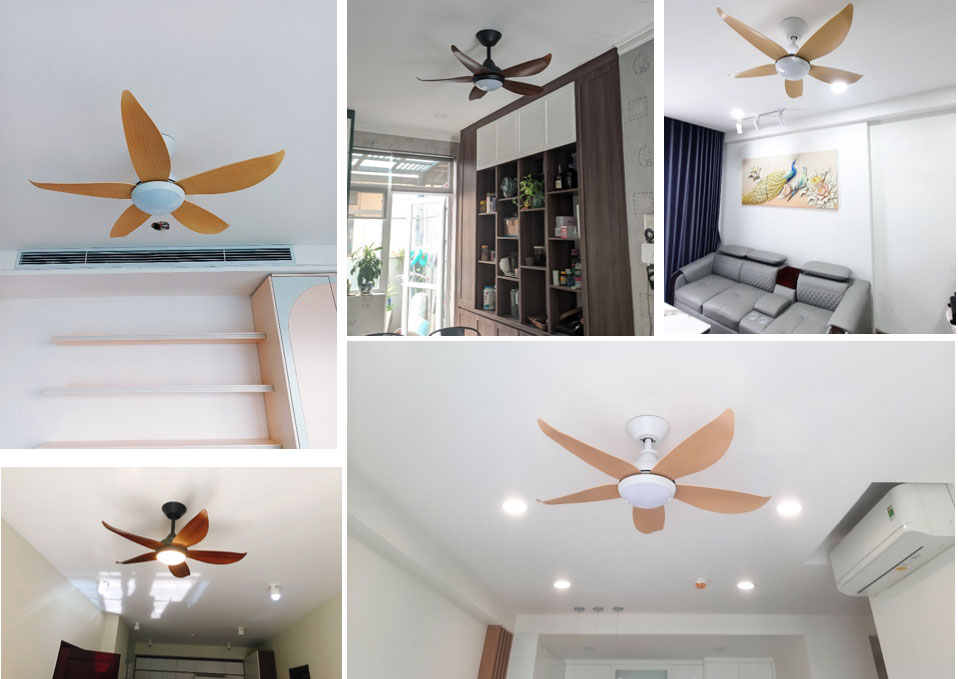 4 model ceiling fan with blade's 1m diameter from Mr. Vu's brand
02 Jan 2023
Most apartments in Singapore have an area of ​​from 50m2 to more than 100m2, the area is quite narrow, so when choosing a ceiling fan to decorate the living room of an apartment or ceiling fan with light for an apartment bedroom needs to choose the right size
Here, Mr. Vu would like to introduce 4 models of beautiful ceiling fans with a diameter of 1m that are most used by apartments in 2022.
Top 4 models of beautiful ceiling fans with a diameter of 1m
Mr. Vu SOLID Ceiling Fan
Solid ceiling fan with 3 strong and luxurious monolithic natural wood blades. SOLID is designed by Mr. Vu in a modern, minimalist style and retains the classic rustic features, the fan's blade is gently beveled to create a cool, gentle breeze.
Mr. Vu's motor is made of high-class Aluminum, applying the most modern technology today, so when the fan operates extremely smoothly, it rotates 3 times faster than a conventional decorative fan motor, helping to generate wind. large spread throughout the room and importantly, there is no sound when recording.
The 3 blades of SOLID are made of monolithic natural wood and are gently beveled, creating a cool breeze. The fan blades have been treated to prevent termites and warping during use, so you can rest assured.
The fan body has color options: white, black, nickel for you to easily choose. You want the fan to be close to the ceiling or let it go.
Mr. Vu THIN Ceiling Fan
THIN fan is designed based on the idea of beautiful and small blooming spring flowers. That is the visual touch that brings a space filled with flowers and nature to the house! THIN's 5 blades are like small, pretty petals of flowers combined with gentle, pure white and luxurious and classic wood brown to create a charming and elegant fan overall.
THIN ceiling fans use DC motors to save up to 70% of power consumption. The power of THIN ceiling fan is only 40W, but the wind is still very cool and quiet due to the durable Aluminum motor and the curved blade tail design to help create good wind and minimize noise when rotating. The THIN is very smooth in operation and the movement is gentle. The fan blades have been processed to avoid warping and damage during use, so customers are completely assured when using.
Mr. Vu CORA Ceiling Fan
In Greek mythology, CORA is the beautiful spring goddess. Inspired by this beautiful image, Mr. Vu has launched a beautiful CORA ceiling fan like a spring flower. With 5 attractive curved blades like soft petals, in the middle is a lampshade like fragrant pistils, the overall beauty of the Cora fan model makes everyone feel fascinating when looking at it. CORA easily makes the owner fall in love with her lovely petite beauty.
The CORA fan model has 2 basic colors for customers to easily choose for their interior taste: traditional Walnut brown wood blade color combined with luxurious black body color; or elegant light maple wood combined with pure pearl white body. The fan has a diameter of 1m and is made of high-quality ABS plastic, luxurious wood grain color, and has been treated to prevent warping and termites, so you can rest assured when using it.
CORA is integrated with 22w led lights, can change colors to suit the space and preferences of customers: yellow, white and neutral yellow with 6-speed control for customers to easily customize. correction.
Mr. Vu CLASSIC Ceiling Fan
Mr. Vu's CLASSIC ceiling fan is a lamp fan model inspired by the Wood feature – bold tradition of Vietnamese Culture. With simple but delicate motifs, typical color materials, CLASSIC is especially popular for resorts, hotels, apartment projects, and high-class apartments in Singapore.
MR. Vu pays special attention to the safety of the user, so the blade is manufactured very carefully and thickly, creating a sustainable connection between the blade and the engine. The blade is made from pure plywood with anti-termite treatment, which can be used for many years without worrying about warping…
High-end Mr. Vu White Light ceiling fan, advanced 2-way rotation for both summer and winter. The fan when rotating creates 3 times quieter and cooler WIND compared to conventional fans on the market. In particular, the fan uses a super durable Aluminum motor, so it can operate continuously for many hours without worrying about getting hot.
With a showroom system spread across the country, Mr. Vu wishes to bring customers the most perfect product experience space. Hope you can choose the fan model suitable for your living space.
The Mr. Vu's ceiling fan is a smart solution because of its high utility combined with unique decorative arts. Mr. Vu is the only brand that produces fans according to its own ideas, suitable for the culture and needs of Singapore people, so we pioneered in creating many fan models for apartments., with many different designs and colors. Ceiling fans for apartments are often created by elegant, simple but impressive.