News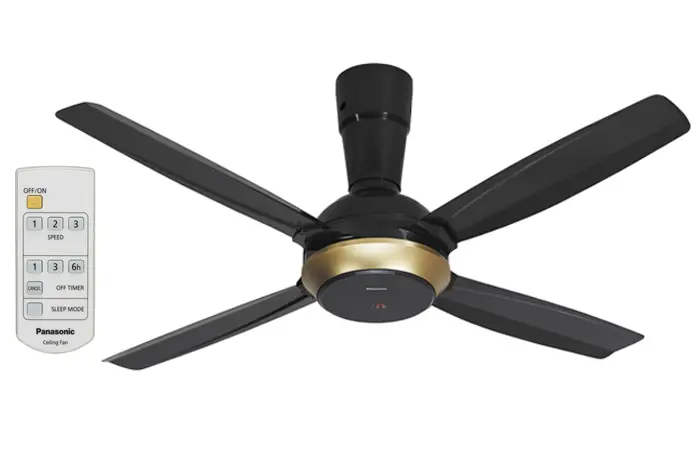 Top 5 Panasonic ceiling fans for superior cooling and style
04 Jul 2023
Probably all of us have known or heard about the Panasonic brand. This is a famous brand in the production of electronic appliances, and one of the items that are very popular nowadays is the ceiling fan. Panasonic ceiling fans are designed to bring efficient and economical cool air to every home. Panasonic has won the trust of customers around the world, not only with electric appliances in general but also ceiling fans in particular. So what makes Panasonic ceiling fans so reliable?
What is so special about a Panasonic ceiling fan?
– When it comes to Panasonic ceiling fans, people talk about its high quality, durability, and strength. This means every Panasonic ceiling fan is designed for long service life. This greatly contributes to the absolute trust of customers. 
– Panasonic ceiling fans are integrated with the most modern and advanced technologies. That's why, these ceiling fans have so many innovative and effective functions, significantly increasing the user experience. Besides, they all use energy-saving motors, which helps these ceiling fans significantly save customers' electricity costs.
– Quiet motor and unique design are an advantage that helps Panasonic ceiling fans operate exceptionally quietly, creating a space that is not only cool but also relaxing.
– All ceiling fans here are designed with Panasonic's signature style, bringing a unique and beautiful look. Integrated functions with Panasonic ceiling fans such as LED lights, remote control, and smart homes bring great comfort to customers.
Top 5 most popular Panasonic ceiling fan
Panasonic F-56 XPG ceiling fan
This fan model is famous for its modern style and design, bringing a sense of attraction and class to your room. With 4 blades and a span blade of 56″, the Panasonic F-56XPG is the perfect choice for medium-sized or large-sized rooms such as living rooms, kitchens, and dining rooms. The Panasonic F-56XPG ceiling fan offers many modern and advanced features, but its price is very affordable.
Panasonic F-60TAN ceiling fan
The Panasonic F-60TAN is often chosen for larger spaces with a blade diameter of 60″. Thanks to 5 meticulously designed fan blades, this fan model delivers cool air and strong air circulation. This product also owns many convenient and modern functions such as natural breeze, 3D blades, temperature sensors, and sleep mode.
Panasonic F-56MPG ceiling fan
This product is known for its electrical energy saving and quiet operation. With its 4 blades, the Panasonic F-56MPG ceiling fan provides efficient airflow while consuming only a small amount of energy. With its minimalist and modern design, this product becomes the perfect choice to elevate your living space.
Panasonic F-60MZ2 ceiling fan
The Panasonic F-60MZ2 is a combination of style, performance, and safety. With 3 blades and a blade span of 60″, this fan model can be installed in any room. In addition, this product also includes many user-friendly features, helping it to deliver optimal performance and efficiency. With a modern and compact design, the Panasonic F-60MZ2 is the perfect addition to elevate any room with elegance. Besides, this fan model also has 3 absolute safety designs: safety wire provided, cut-off safety switch, and fall prevention blade.
Panasonic F-60WWK ceiling fan
This fan model uses a high-quality DC motor. Thanks to that, the F-60WWK can operate without making any noises, creating a quiet and relaxing for your space. At the same time, this fan model only consumes very little electricity, helping homeowners save significantly on electricity costs each month. Moreover, the Panasonic P-60WWK also has a full range of modern functions, helping users to freely choose and adjust for the most comfort and fit.
With many years of research and development of their products, Panasonic has always focused on optimizing the performance and quality of their products to the maximum. Panasonic has won the trust of countless customers around the world with electric appliances in general and ceiling fans in particular. Therefore, ceiling fans from the Panasonic brand always achieve high quality and performance, but the top 5 ceiling fan models Panasonic, have even better performance and quality.