News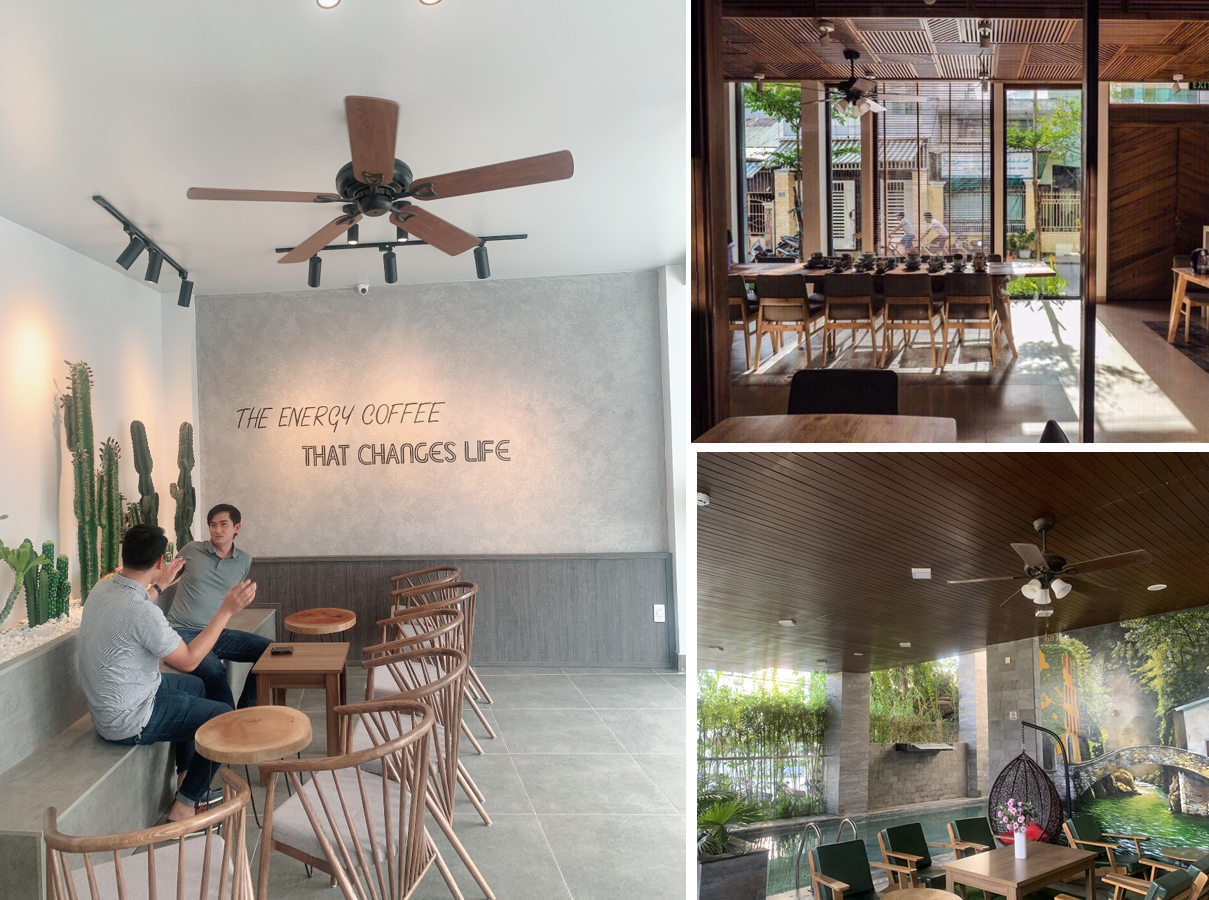 The Ultimate Guide to Choosing Ceiling Fans for Your Cafe Shop
10 Nov 2023
We are experiencing growth in various industries, including factories, workshops, farms, cafes, restaurants, and gyms. Besides that, ensuring the health of customers or workers is a crucial factor for business owners to consider.
Installing fans in large spaces can be challenging as it requires a significant amount of space, infrastructure, and electricity. However, even with fans installed, it may not be enough to cool the entire area. Traditional fans can only rotate in one direction, which means that if the weather is hot and there are many people, the fan cannot cool the entire space at once. The wind would become uneven and intermittent.
Direct exposure to air conditioning or cold air can lead to various health problems such as dry skin, dry eyes, sore throat, and pneumonia. People suffering from ear, nose, and throat diseases should avoid being in the direct path of air conditioning as it can worsen their condition. The cold air mix can be too harsh and take longer to adjust. Moreover, using air conditioners in open spaces such as cafes, workshops, and factories with large areas can consume a significant amount of electricity. Hence, it is advisable to use air conditioning in closed spaces only.
Ceiling fans can be the perfect solution for even cooling, reduced electricity costs, and improved health. Instead of installing multiple wall fans, Mr. Vu suggests using ceiling fans of varying blade diameters to cool larger spaces and save on space and electricity. Ceiling fans can distribute wind throughout the area, leading to better air circulation that is beneficial for health. Additionally, they can serve as beautiful decorative pieces that enhance the overall look of the space. Join Mr. Vu to discover common ceiling fan models suitable for larger spaces.
The Top Ceiling Fans for Your Cafe Shop
Ceiling fan – Classic
Classic ceiling fan blades are made of pure plywood that has been treated to prevent termites, ensuring they can be used for many years without warping or drooping. When used, the fan rotates quietly and produces a cool breeze three times cooler than conventional fans. Additionally, the fan features a super durable aluminum motor that can operate continuously for many hours without the risk of burning out.
Mr. Vu places great importance on user safety. Therefore, the fan blades are carefully and thickly manufactured, ensuring a durable connection between the propeller and the engine. The Classic ceiling fan model is particularly popular for use in resorts, cafes, hotels, apartment projects, and luxury apartments throughout Singapore.
Ceiling fan – Hura
The Hura Ceiling Fan is made of high-quality, corrosion-resistant, and UV-stabilized plastic. These fans are perfect for outdoor cooling as they provide impressive airflow. Moreover, the DC motor used in the fans is highly energy-efficient, consuming only 40W at a high level and 6W at a low level, which can save up to 70% of electricity. The fans operate smoothly and quietly, adding a touch of luxury to any space. Additionally, the fans have a 2-way feature, which allows them to cool in the summer and warm in the winter, making them highly effective for all seasons.
Ceiling fan – Hero
The Hero ceiling fan boasts five high-quality PC plastic blades that are beautifully designed with 3D curves. It also has a large wind-catching tilt and operates with an energy-saving DC motor. When in use, it creates a cool and smooth natural wind without any noise. The Hero is entirely manufactured in Taiwan, ensuring exceptional quality. The fan's body and blades have a traditional walnut wood grain color, giving it a luxurious feel and making it suitable for installation in living rooms, bedrooms, restaurants, cafes, and other spaces.
The Hero fan model has an imposing and regal appearance, generating a large amount of wind, reminiscent of legendary heroes.
Ceiling fan – Industrial
This ceiling fan model has six aluminum blades that feature a 3D curved design, making it look very cool. The blades operate smoothly and gently, and unlike iron blades, they are not too heavy. The fan motor is designed to dissipate heat well, allowing you to use it for long periods without worrying about overheating. Additionally, there are several blade color options available (black, white, and silver) to suit different spaces. It is also an energy-efficient solution, which is great for business owners who want to save money on their electricity bills.
Ceiling fan – Xtreme
The Xtreme fan is both strong and sophisticated. It is made of high-quality aluminum material and has a diameter of over 3 meters. The fan is powered by a new-generation DC motor that is energy-efficient and durable. When in operation, the fan blades move slowly, creating a cool and smooth airflow. The fan is equipped with a remote control that has 6 wind levels and a reverse function, which allows it to cool in summer and warm in winter.