News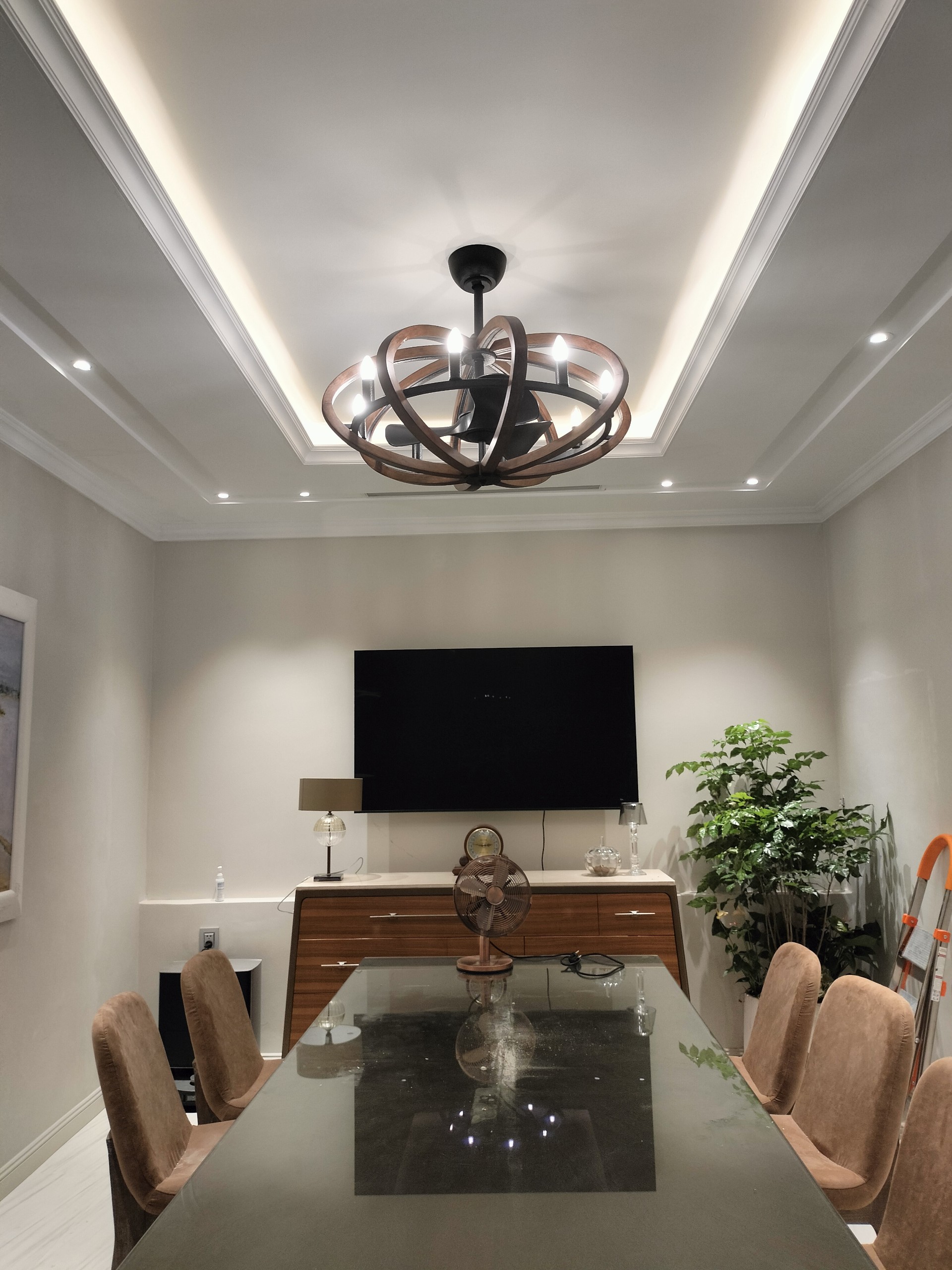 A Gallery of 5 Chandelier Ceiling Fans Models by Mr. Vu
14 Nov 2023
In recent years, many homeowners have been inclined towards designing their houses in a trendy and classy style which has resulted in a hot real estate and interior market. Chandeliers are a decorative item that is no longer uncommon. However, the combination of ceiling fans and chandeliers may seem strange and surprising as they can create different and groundbreaking functions in everyday life.
Ceiling fans combined with chandeliers serve a dual purpose – they not only provide luxurious and classy decorative lighting but also circulate a cool and healthy breeze throughout the house, which is something not everyone thinks to do. At Mr. Vu Ceiling Fans, we are committed to constantly innovating and bringing our customers countless interesting experiences, making the impossible possible!
Explore 5 Chandelier Ceiling Fans by Mr. Vu
Chandelier Ceiling Fans – Queen
Mr. Vu's Queen chandelier ceiling fan is designed to resemble a luxurious crown.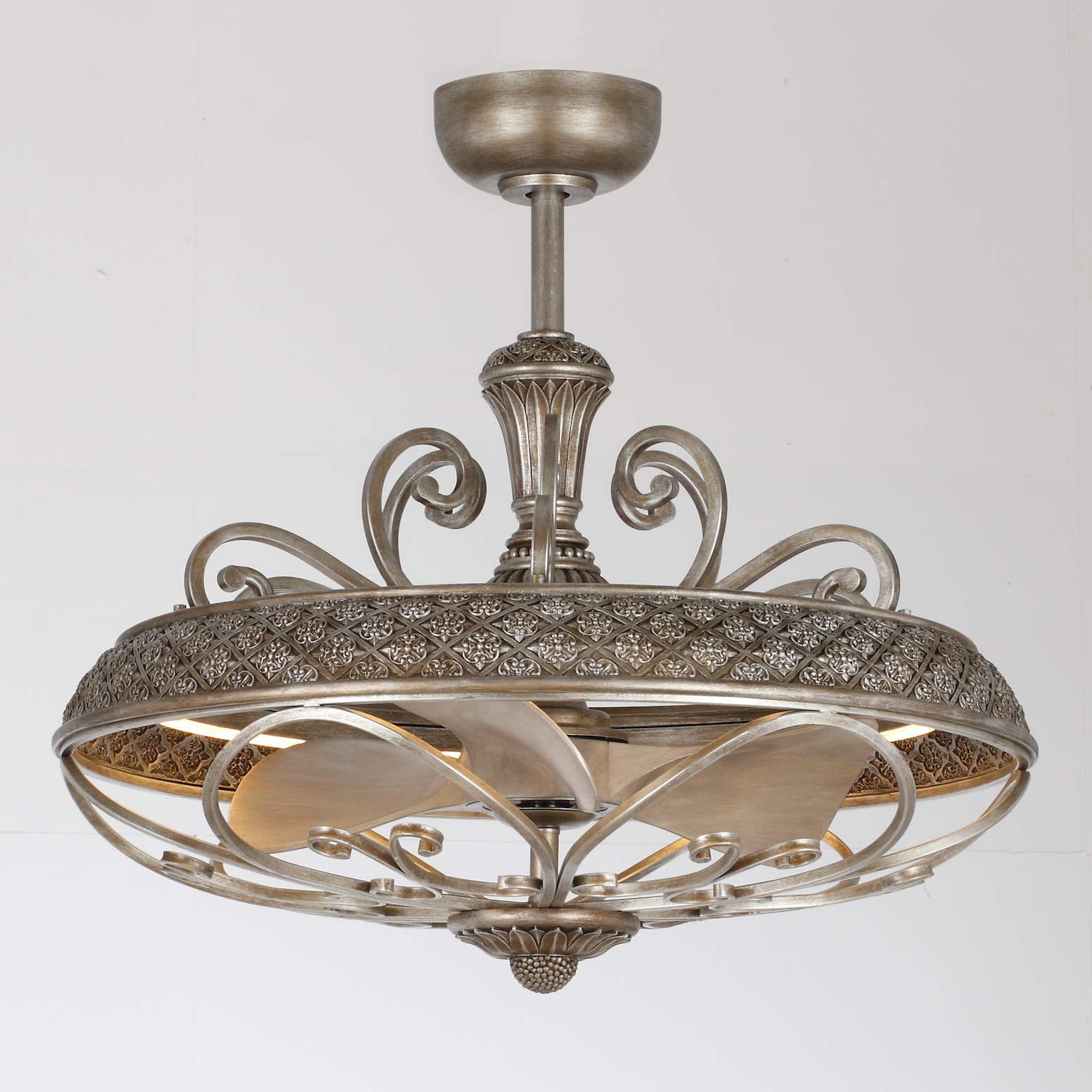 Meet Mr. Vu Queen, a modern ceiling fan that's designed with a classic touch. This unique product boasts meticulous attention to detail, from the fan blades to the smallest patterns on its body. Every pattern has been carefully crafted by skilled artisans, making the Queen a true masterpiece!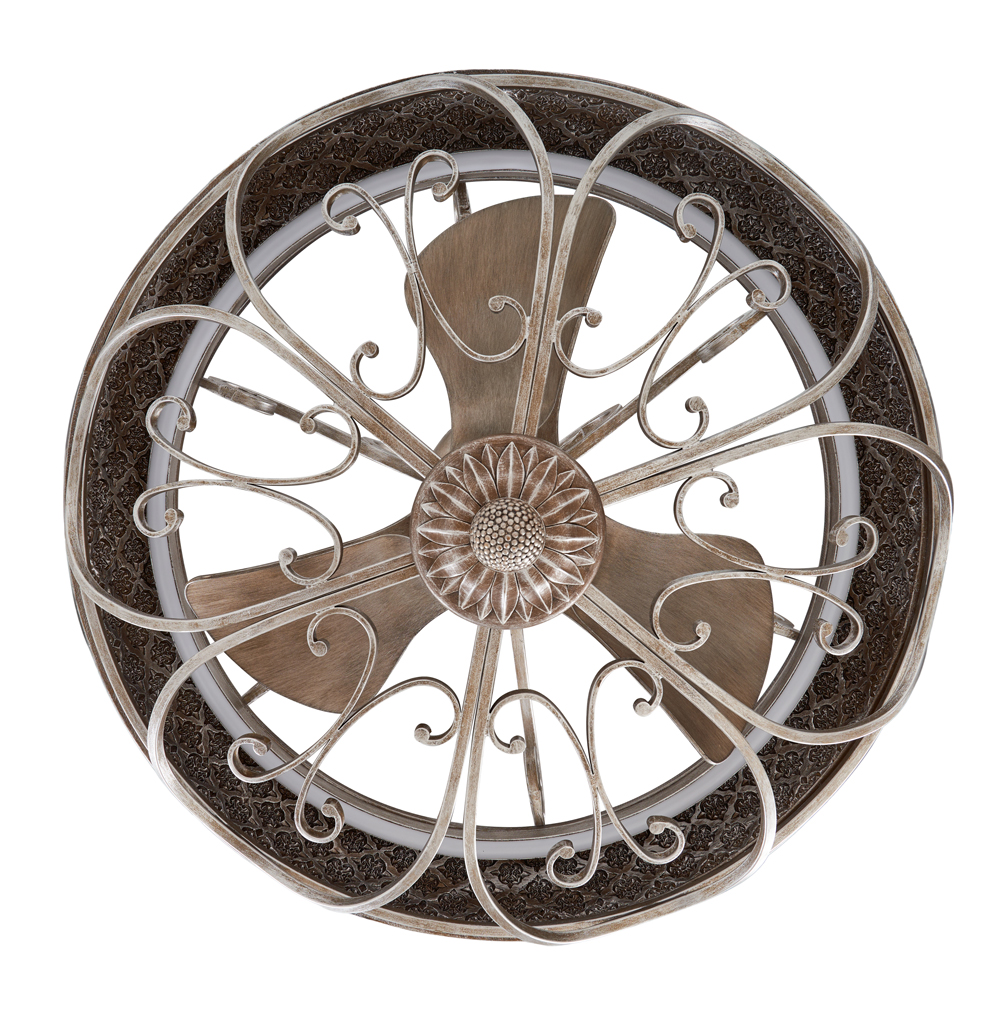 The Queen ceiling fan is a magnificent addition to any room with its classic metallic bronze color. The fan blades are made of high-quality PC plastic and designed with a unique curve to create a smooth and cool breeze. The fan motor measures 188x15cm and features a special oil shutdown system that continuously lubricates the bearings, virtually eliminating noise and wear for a quiet operation.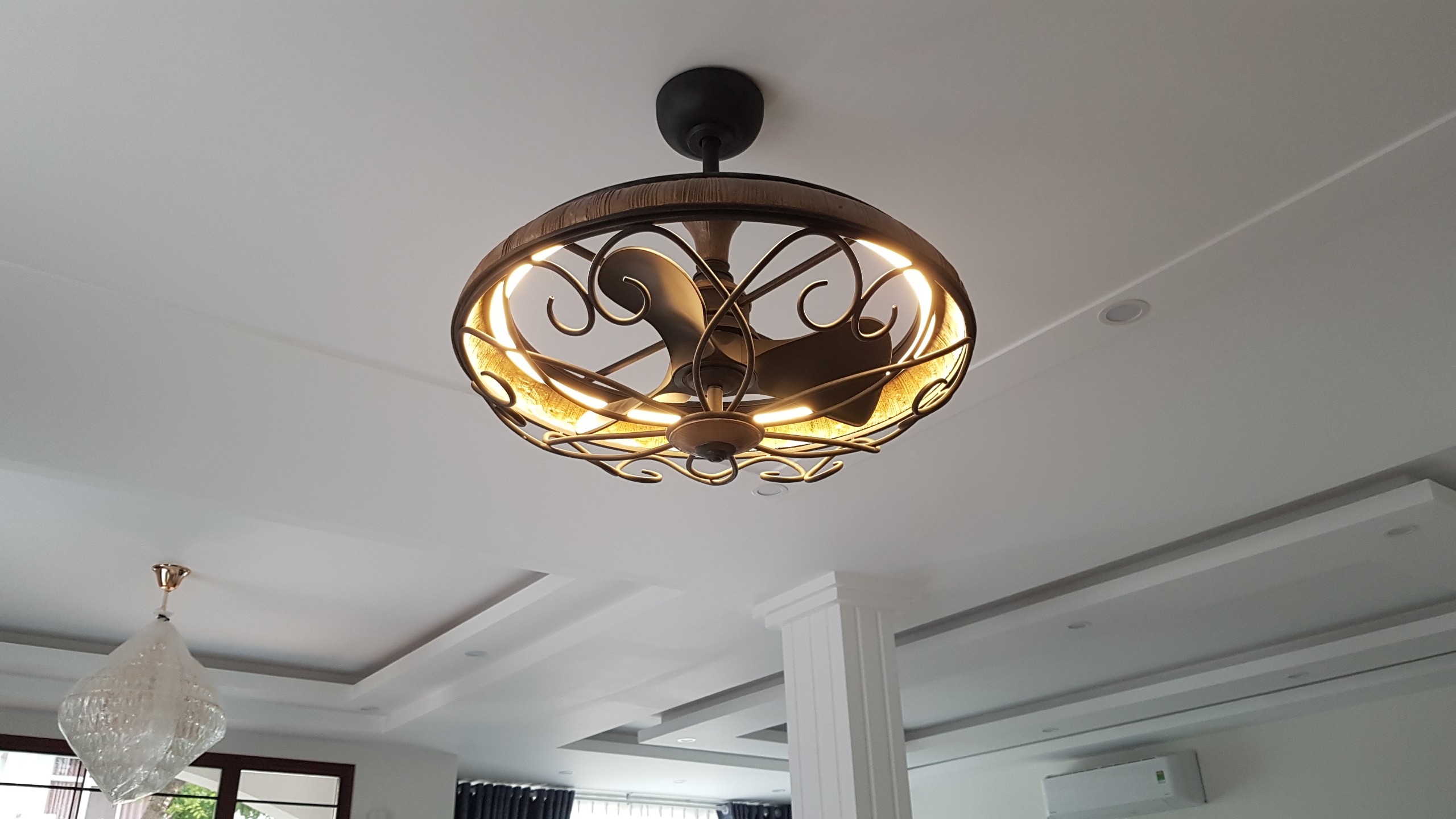 One of the creative differences of the Mr. Vu ceiling fan is the 46w LED ring light with reversing mode, which provides cool air in summer and warm air in winter. The fan's wingspan is 25 inches (63.5cm) and its height is 65cm. It has up to 5 wind speeds and comes with a genuine remote control for ease of use. The Queen also has an energy-saving feature when using its DC motor, saving up to 70% of electricity consumption.
Mr. Vu has created a work of art from cold metal with soft lines, which perfectly balance each other. The Queen ceiling fan is perfect for large living rooms, spacious dining rooms, or classic-style wine cellars. Its sparkling orange light warms up even the darkest room, and it exudes gentle warmth despite its strong outer shell, bringing a cool breeze to your home.
Chandelier Ceiling Fans – Candela
Introducing another stunning and unconventional ceiling fan and chandelier model from the Mr.Vu brand. The Candela ceiling fan is inspired by the image of golden candles that emanate a warm light, perfect for warming up a winter night. Artisans have skillfully crafted this fan with its magnificent appearance, making it ideal for installation in large living rooms, hotel lobbies, villas, and dining rooms.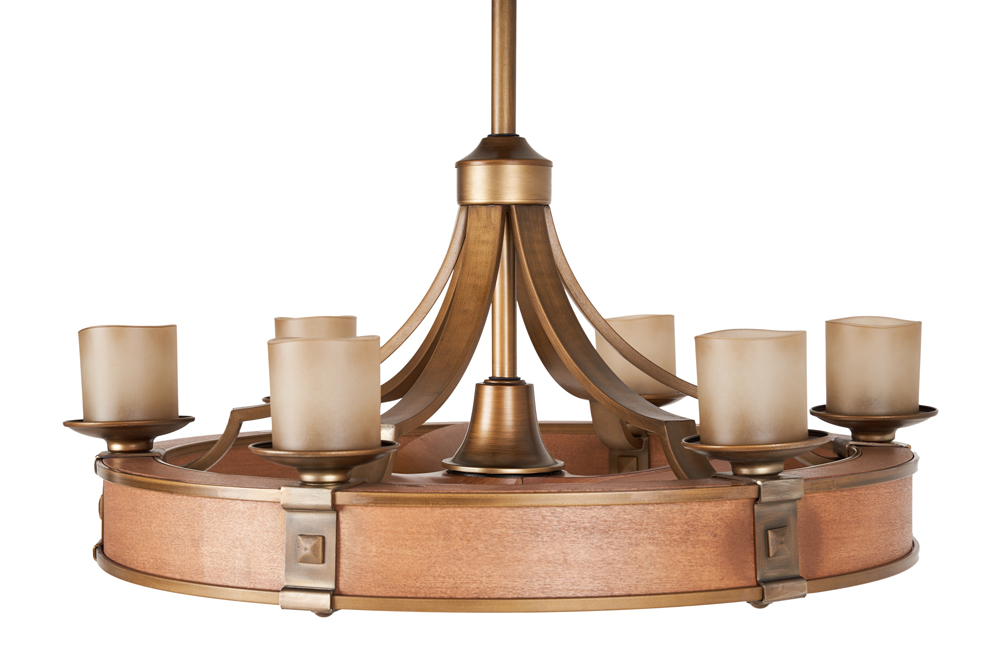 This ceiling fan is 100% manufactured in Taiwan and features an energy-saving DC motor with a reverse function. With a diameter of 90cm and a height of 65cm, Candela's blade is made of high-quality plastic with a unique curved blade design, creating impressive wind power. The overall look of the fan and lamp is of a classic wooden brown color, which creates a noble and luxurious appearance. "The candles" arranged neatly on the fan body bring warmth and coziness to any home. Finally, it is important to note that the lights of the fan use 6 E-14 bulbs, which can be easily replaced.
Chandelier Ceiling Fans – Unique
Unique chandelier ceiling fans are named for its one-of-a-kind beauty and luxurious, classic wooden design. They are perfect for installation in large living rooms, dining tables, hotel lobbies, and restaurants.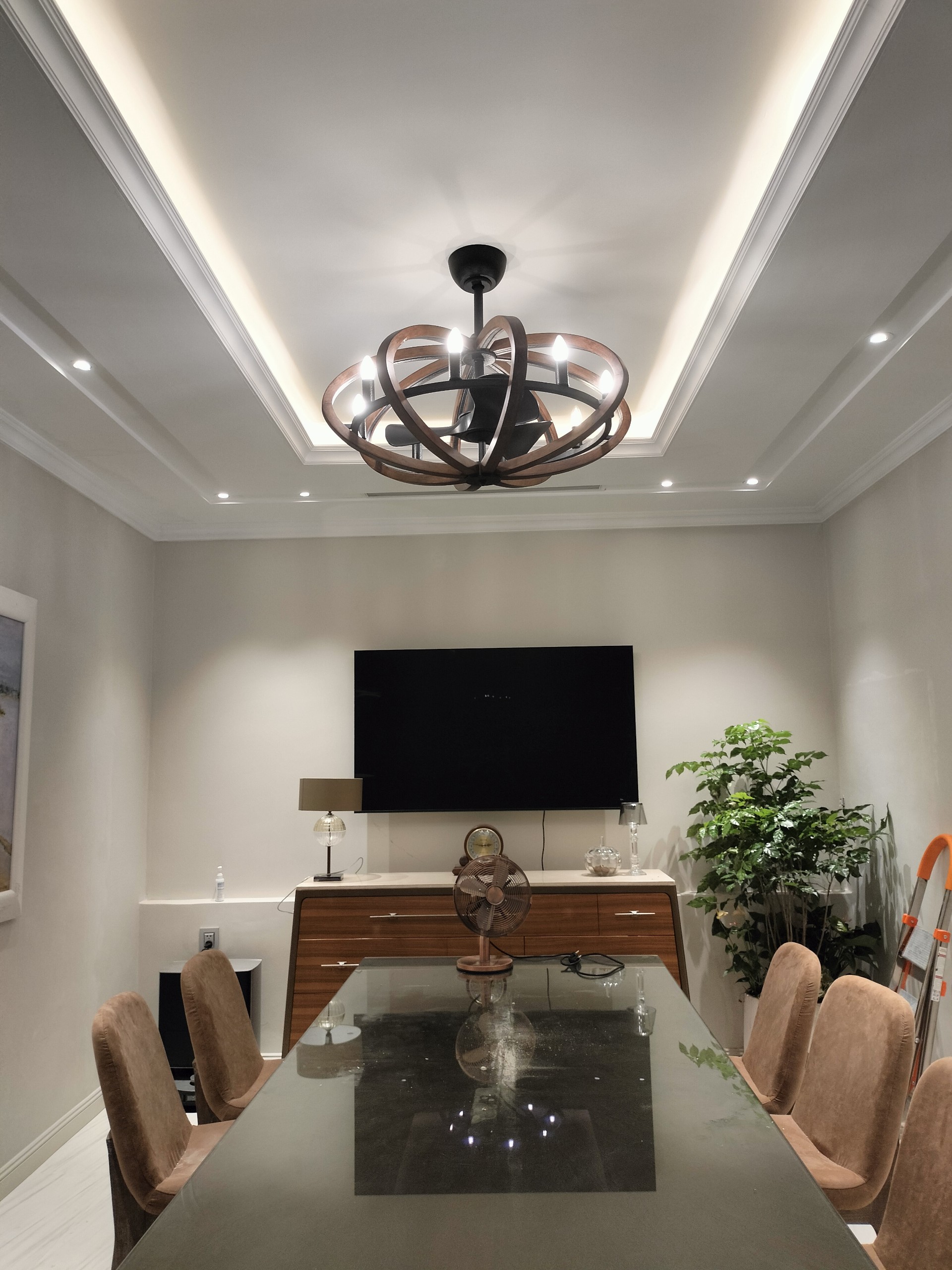 These fans resemble a shining star in the night sky, casting a warm orange-yellow light that adds nobility and elegance to any space. With a diameter of 91.5cm and a height of 65.7cm, these fans are equipped with an integrated energy-saving DC motor and a reverse function. The wooden frame and black fan blades combine to create a harmonious and mysterious atmosphere. The curved and uniquely designed blades create a cooling wind and provide air conditioning for the room.
In addition to focusing on product quality, Mr. Vu ceiling fans also prioritize energy efficiency. Environmental protection and energy conservation are global concerns, and Mr. Vu's ceiling fans address these issues by utilizing DC motors to save energy in the most optimal way possible. By doing this, they give customers peace of mind and satisfaction, while keeping electricity bills to a minimum.
Chandelier Ceiling Fans – Empire
The Empire chandelier ceiling fan is named after its eye-catching and magnificent appearance, which reflects its noble mission of building a new, magnificent, strong, and majestic empire. It has an impressive size of up to 1.6m, making it suitable for installation in large living rooms, dining tables, and meeting tables, as well as luxurious and elegant common living areas.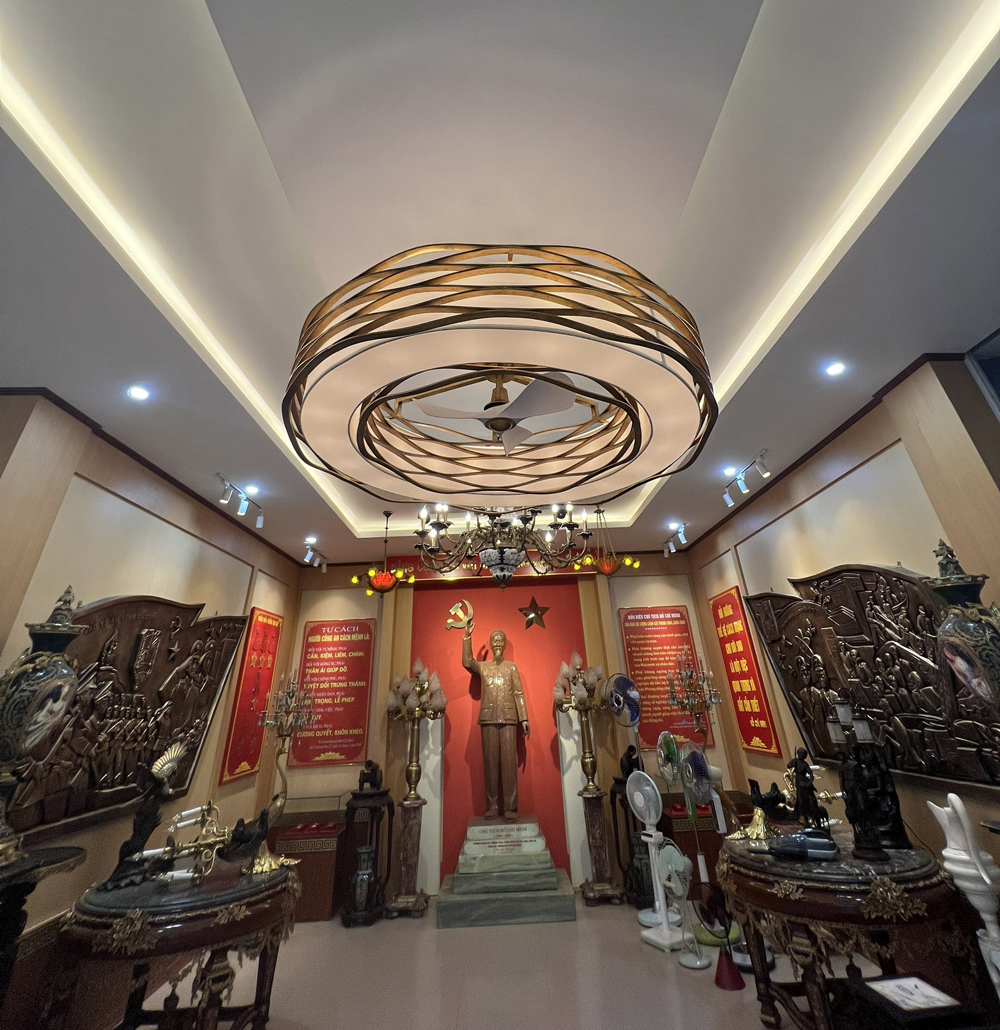 Empire's design is inspired by classic European style, with a combination of classic metallic yellow and elegant white. Yellow is the color of sunshine, which brings warmth, happiness, and comfort. It is also associated with wisdom and strength, increasing enjoyment and mental activity. The combination of metallic yellow and white creates harmony and brings a cozy, luxurious, and sophisticated feeling to the space. With the addition of Empire, the room seems to glow with vitality and energy.
The Empire ceiling fan comes with 18 E14 LED bulbs, with a capacity of 4w, and an energy-saving DC motor, which has a size of 92x27cm. The fan blades are made of PC plastic and have a unique curved blade design. It uses a remote control with 5 wind speeds and an off-timer function.
Chandelier Ceiling Fans – Tesla
The color black is often associated with strength, charm, sophistication, and elegance. Mr. Vu has cleverly combined black and metal to create the Tesla chandelier ceiling fan. This masterpiece provides both light and a cool breeze to any space where it is installed.
With its mysterious modern style, Tesla is suitable for many different spaces, such as living rooms, dining rooms, meeting rooms, and lounges.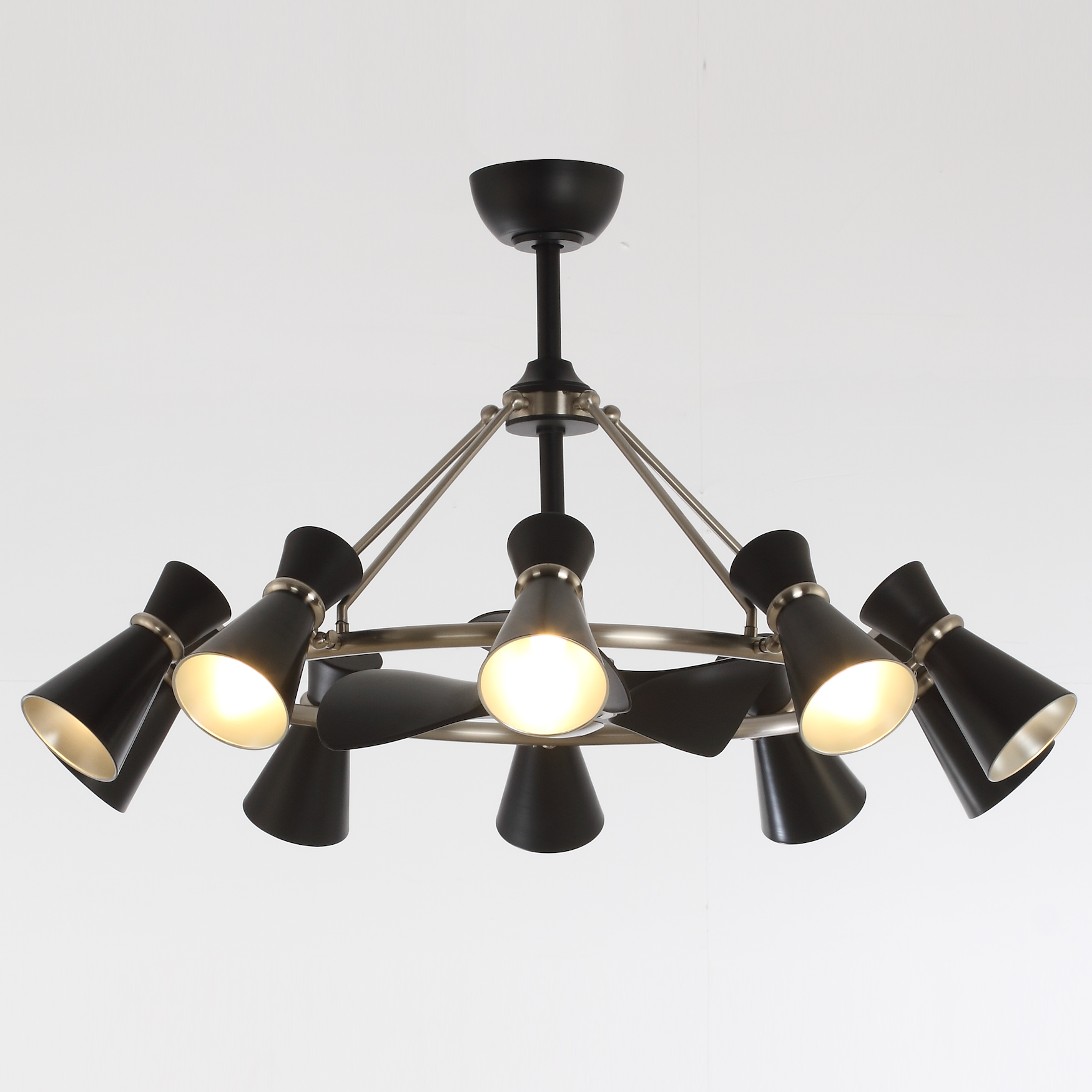 Tesla is a prominent highlight in any room. Its warm yellow lighting system eliminates the need for other complicated accessories and replacement furniture. The fan creates a unique contrast when used with other colors. The mysterious black color of Tesla creates depth and serves as a special highlight.
The Tesla fan is an ideal choice for large spaces as it provides diffused light. It uses 10 E14 LED bulbs combined with an energy-saving DC motor and has an integrated reversing mode. The fan has a diameter of 1.03m and a height of 67cm. It has 5 wind modes and uses Mr. Vu's genuine controller.
Summary
Ceiling fans and chandeliers are a great combination for any room. Many people are often faced with the dilemma of what to install on their ceiling – a fan or a light? At Mr.Vu, we provide ceiling fans that come with built-in lights which provide both ventilation and light in the room.
Our fans are not only decorative but also high-quality and efficient. As pioneers in manufacturing ceiling fans with unique styles, we ensure that our products are made entirely in Taiwan and have been certified by CO CQ for product origin and quality. This means that you can trust our products and services without any worries.
We take pride in each fan we manufacture, just like how an artist loves their work. The idea behind each fan is carefully researched, and their names are chosen to encapsulate the uniqueness of each model. Some of our popular models include Queen, Candela, Tesla, Empire, and Unique – each name highlighting a distinct characteristic of the fan. When you learn more about them, you'll understand why they are named so.