News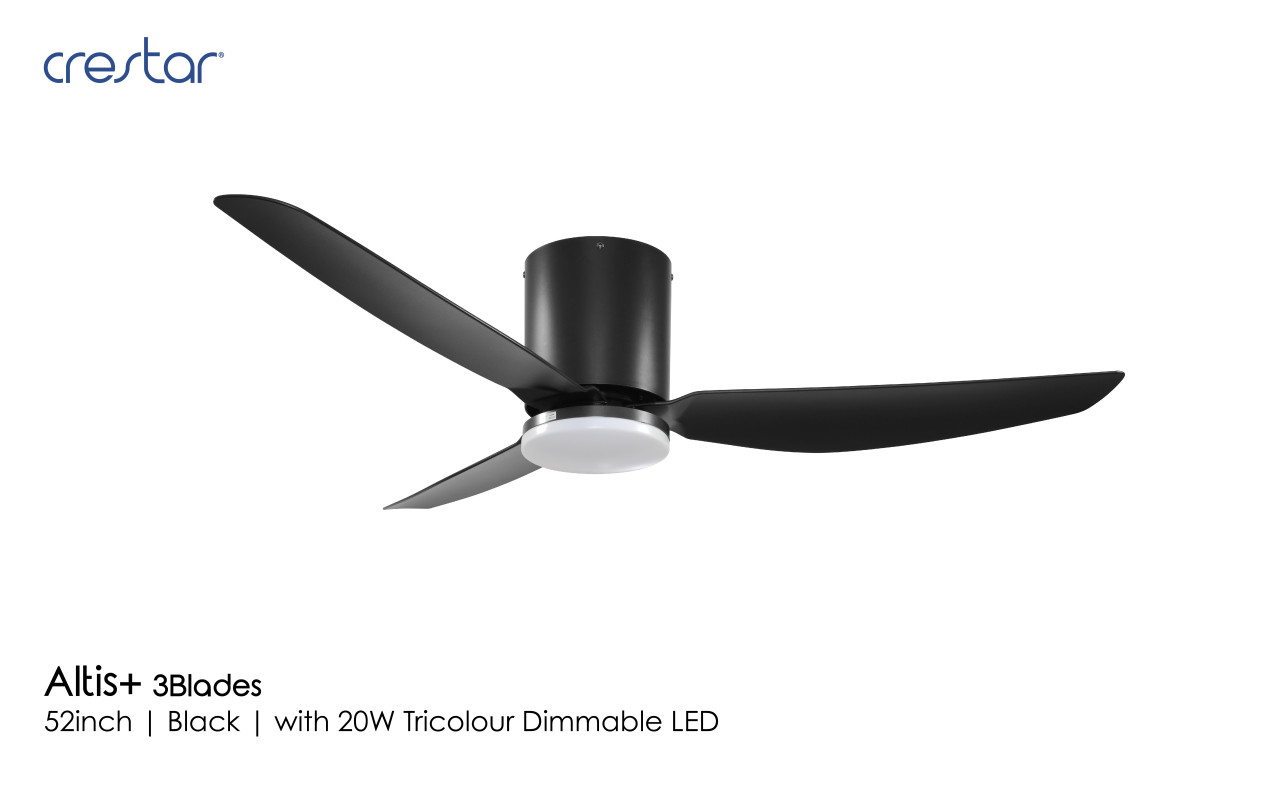 Review Crestar Altis+ Smart Ceiling Fan
19 Feb 2023
Today, the market is launching many models of stand fans, table fans, mist fans with eye-catching designs and modern function. However, ceiling fans keep on going to be the most popular and widely used. When it comes to ceiling fans, we can't ignore the hottest fan model on the market right now. Crestar Altis+ Smart Ceiling Fan. Right now, let's find out what makes Crestar Altis+ so special.
Modern and elegant design
Crestar Altis+ is manufactured mostly from ABS except for the downrod, bracket and screws. Therefore, the entire fan frame is extremely sturdy and durable, so that this ceiling fan model can be used for years without any damage or warping. The design of Crestar Altis+ is also very modern and compact, this is a hugger fan model, so it will be very suitable if installed in low-ceiling apartments and will be even more suitable if used in Smart Home. Crestar Altis + has up to 4 different colors to help customers easily choose the right color for their home space. Besides, this fan model also comes with a 20W LED light that can illuminate the entire room.
The most advanced remote-control technology.
Conventional fan models are frequently operated by a pull cord or wall switch, and more contemporary ones come with their own remote control. But have you ever adjusted the ceiling fan with an app on your phone? This will undoubtedly be a unique and fascinating experience for users. Crestar Altis+ is currently used on two platforms, Smart Life App and Tuya Smart App, which customers can quickly install on their phones. Moreover, Crestar Altis+ can also integrate with Google Assistant and Alexa, which is very suitable for integration with Smart Home apartments.
Perfect in function
Cooling function
Crestar Altis+ can cool 280m2/min and can circulate cool air in a large space up to 50m2. So, every time this fan operates, the air in your space will instantly change, allowing you to immediately experience the comfort and cooling.
Saving function
  Crestar Altis+ uses a DC motor that is famous for saving electrical energy. Capable of saving electrical energy up to 70% compared to conventional fan models. Not only that, it is extremely durable, customers can use it for many years continuously without showing any signs of damage or deterioration.
Safety function
Even having many contemporary functions. Crestar Altis + still prioritizes safety function, nonetheless. This fan model is equipped with safety wire, safety switch and safety lock. During use, if unfortunately, the fan is shaken or tilted to one side, this fan model will automatically cut off the power thanks to the safety switch. This ensures the fan will stop working if something goes wrong.
This is the fan model that is considered as one of the best on the market today. Not only is the design smart and modern, but it is also extremely luxurious and sophisticated. This is a product that possesses many functions and capabilities. As a result, Crestar Altis+ will certainly bring a new and interesting experience for customers to use.